Unmatched Air Conditioning Service
Keep your home cooler and more comfortable all summer long by choosing Air Comfort, Inc., for all your air conditioning needs. Since 1961, we have provided Ohio homeowners with the best in cooling products, installation and maintenance. After all, your comfort and satisfaction are our primary goals. Here's what to expect when you choose us for air conditioning service.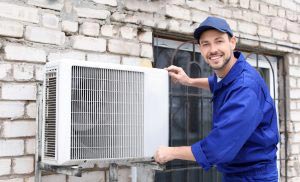 High-Quality Air Conditioning Products
We offer top-tier air conditioning systems from one of the country's leading brands: Bryant®️. Bryant products include the Evolution®️ 2-Stage Air Conditioner, which allows for longer, more consistent comfort cycles on low stage for greater energy savings. We also install the Preferred™ Single-Stage Air Conditioner for those looking for cool summer comfort, increased efficiency and improved indoor air quality.
Fast & Reliable Service
Air Comfort, Inc. employs highly trained and experienced HVAC technicians for our cooling system installations and services. As a Bryant Factory Authorized Dealer, we can ensure prompt and efficient service that complies with quality specifications. Because we have the necessary licenses, bonding and insurance, we can also better protect you and your investment.
Air Conditioning Repair & Maintenance. The expert technicians from Air Comfort, Inc. can assist you with any AC tune-up and repair. We will ensure your cooling system provides proper and longer-lasting performance.
Air Conditioning Installation. If you need a new, better cooling system for your home, we can help. Air conditioners from Bryant allow for greater comfort and energy efficiency in your home. To benefit from their advanced features, you'll need a reliable HVAC expert like Air Comfort, Inc. to guarantee proper installation. Expect us to complete the installation of your Bryant air conditioner right the first time, eliminating the need for costly callbacks.
Schedule Your Consultation Today!
Get started on your air conditioning service or installation by calling Air Comfort, Inc. at (330) 434-8107, or fill out our convenient online form. We'd love to hear from you!