The #1 Choice for Heating & Cooling Services in Northeast Ohio
For almost 60 years, Air Comfort, Inc., has helped Northeast Ohio homeowners keep their homes comfortable, healthy and energy-efficient. We make this possible with our high-quality heating and cooling services, performed by a highly trained and experienced crew. We have over 25 years as a Better Business Bureau®️ Accredited Business and have earned the coveted A+ rating. Expect a worry-free experience when you hire us to handle your HVAC needs.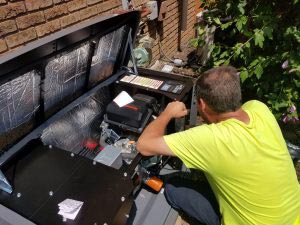 Air Comfort, Inc. serves the following Ohio communities and counties:
Summit County
Stark County
Portage County
Wayne County
Cuyahoga County
Medina County
Benefits of Our Services
As a Bryant®️ Factory Authorized Dealer, Air Comfort, Inc. can offer the most innovative HVAC products available, ranging from gas furnaces and heat pumps to air filters and air conditioners. Our professional team has the necessary skills and experience to provide timely and efficient HVAC maintenance, installation and repair — all to ensure your home keeps a consistent and comfortable indoor temperature, no matter the season. Here's more of what to expect when you choose us for your HVAC needs:
Greater Energy Savings. Because we offer top-tier HVAC equipment from Bryant, your new system will provide reliable performance minus the high energy costs. These products are ENERGY STAR®-qualified, which means they have met stringent energy performance ratings. You'll no longer have to worry about excessive utility bills due to an inefficient heating or cooling system.
Healthier Home. Aside from heating and cooling services, Air Comfort, Inc. also offers a range of indoor air quality solutions. Our Bryant air filters help clean the air in your home to prevent the accumulation of excessive dust and other allergens, while ventilators help bring fresher, cooler air to reduce indoor moisture. We also have UV lamps that can kill a variety of bacteria, helping you avoid the accompanying health risks.
Customized Comfort. Air Comfort, Inc.'s controls and thermostats help maintain the perfect indoor temperature inside your home. Plus, they come with solid warranty coverage for additional peace of mind.
Call Us Today to Schedule Service
Air Comfort, Inc., continues to help homeowners maximize the comfort, health and energy efficiency of their living spaces. Call us at (330) 434-8107 or fill out our convenient online form to schedule service. We'd love to hear from you!