Top-Notch Commercial HVAC Control Systems in Akron, OH
HVAC technology has come far over the last several years. It's now easy for business owners to maintain a comfortable, safe and energy-efficient commercial building, thanks to today's high-tech HVAC control systems and solutions.
For over 60 years, Air Comfort, Inc., has been successfully providing superior commercial HVAC solutions to Northeast Ohio. Among our many specialties are advanced thermal control systems.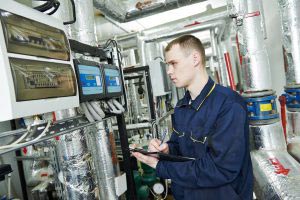 How Thermal Control Systems Can Benefit Your Business
Having an HVAC control system in place lets you have full control of your commercial property's heating and cooling systems. With just one system to customize and set up, you can override individual controls or thermostats and ensure that the heating and cooling levels in different areas of the building are maintained according to your needs.
A thermal control system can also alert you of HVAC problems as soon as they occur, letting you act on them before they get worse and wreak havoc on your property and assets.
Your Source for Top-Notch HVAC Control Systems
Air Comfort, Inc. carries the most advanced electronic and wireless thermostats and control systems from leading HVAC equipment manufacturer Bryant. Our expert technicians will evaluate your building and consider your comfort needs as we recommend the best thermal control setup for your business. With these solutions, you will achieve optimal indoor comfort and save energy at the same time.
Learn More—Call Us Today!
Your business is unique, so it's best to have your office or building evaluated by our technicians. This way, we can identify possible issues with your HVAC system and determine the best thermal control setup to achieve your goals. Get in touch with Air Comfort, Inc., by calling (330) 434-8107 to schedule a consultation and learn more about our thermal control solutions.