Your Source for Reliable Commercial HVAC Services
As a business or commercial property owner, keeping your office or building comfortable, safe and energy-efficient is likely on your list of responsibilities. To make this happen, you need to ensure that you have reliable HVAC systems coupled with other indoor environment solutions. Furthermore, any issues with your commercial HVAC setup must be attended to by professionals to prevent them from affecting your property and assets.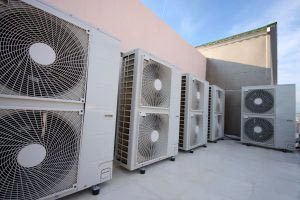 With all of this in mind, you need the assistance and service of a highly experienced and trusted HVAC company. And if you're on the look-out for one, you've come to the right place.
Commercial HVAC Services You Can Trust
Since 1961, Air Comfort, Inc., has been providing Northeast Ohio with top-notch HVAC services. Upholding our commitment to honest and fair service, we also help business owners ensure that their commercial buildings are not only comfortable, but structurally sound and energy-efficient as well. We do this with our wide range of HVAC services and specializations, including the following:
HVAC Repair & Installation
HVAC Maintenance
HVAC Controls & Thermostats
From HVAC repair to customized installation, the expert team at Air Comfort has you covered.
24/7 Emergency HVAC Assistance
At Air Comfort, Inc., we understand the important role that your HVAC system could play in your business operations. This is why we make sure that we have technicians who are ready to answer your call for emergency service. We provide round-the-clock, reliable and dependable HVAC services to make sure your emergencies are attended to as quickly as possible.
Invest in Commercial HVAC With Confidence—Call Us Today!
You and your business deserve nothing short of the best HVAC systems and solutions. When you work with Air Comfort, Inc., you are assured of top-notch products and the best of customer service. Call us today at (330) 434-8107 to schedule a free service consultation and estimate.